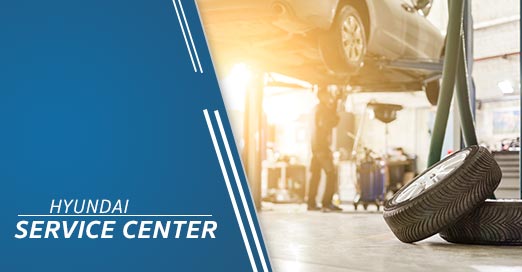 ---
At Jim Ellis Service Center, there's no need to second-guess yourself or your car - be it the noise it's making under the hood or the alien light that just popped up on your dash display. Our certified technicians work vigorously within our Hyundai Service Department to ensure that your car gets the quality parts needed to keep it functioning at maximum capacity (and to keep you from worrying). Every new vehicle needs service to keep things running in peak condition, whether you took home a new Hyundai Sonata or a sporty Santa Fe SUV, our Hyundai service department is here to assist. So, if you need any kind of Hyundai service in Atlanta, GA, let us take your vehicle into our knowledgeable hands and satisfy all of your automotive needs at our Hyundai Service Center.
---
Hyundai Oil Change Services
Many of us already keep an eye on our vehicle mileage so that we know when to get our oil changed without even realizing how important these oil changes are. The oil in your vehicle keeps your engine, and therefore your car, running smoothly by lubricating different components. By making sure you get your oil changed regularly, you stand to gain many benefits such as better gas mileage, enhanced engine performance, and extended engine life.
Your owner's manual can tell you nearly everything you need to know about the grade and viscosity of the oil that your vehicle needs, as well as the recommended mileage at which to change your oil. Your driving habits may also make an impact on the needed frequency of your oil changes. Schedule an oil change with your Hyundai Service Center to learn more.
---
Hyundai Brake Services
Have you ever had a moment when the traffic in front of you suddenly came to a stop in an instant? If so, we bet you were incredibly thankful for your braking system. Our trained technicians have the skillset and tools to make sure that a moment of relief like that never turns into a moment of devastation caused by brake failure.
It's important to get your brakes checked regularly, even though this is a service that can frequently get overlooked. We know it can be difficult to decide when to visit us and check up on it, so here are some useful indicators that you should bring your vehicle into our Hyundai Service Center for a brake check:
You notice any atypical noise that occurs when hitting your brakes
The Anti-Lock Braking System (ABS) light comes on
Your brake pedal goes further down than usual or drops all the way to the floorboard
Your steering wheel vibrates when applying the brakes
Your brake fluid looks dark brown (rather than golden or amber)
If you're unsure of your current need to get a brake check, call our Hyundai service department, and we can set you up with one of our technicians.
---
Hyundai Battery Replacement
While many people see the engine as the heart of a vehicle, it can also be said that the battery acts as the head. Like our own minds, a car's battery can be complicated, but its servicing doesn't have to be. Our Hyundai Service Center technicians know exactly which battery is the most efficient for your car, so, if you visit us, ask for a complimentary vehicle inspection during which you will get a battery test.
Want to get more life out of your existing battery? Here are some tips that can help you make the most of you car's battery life:
Double-check to make sure your lights are turned off when you exit your vehicle
Limit idling for long periods of time
Limit AC, radio, and other electronic usage during idling
Keep your battery clean to avoid corrosion and other grime
---
Hyundai Parts Department
Our factory-trained technicians know what your vehicle needs, sometimes before it even tells you. We keep up to date on the latest innovations and modern technology that go into your vehicle. We have all the parts you may need to keep your car in top shape for as long as you have it, and we can order anything else you might want. Not to mention, we're constantly offering specials on different parts for all of our Hyundai models. Our extensive, high-quality parts are all genuine Hyundai components that will brilliantly complement not only your car but also your wallet.
Hyundai Parts DepartmentSchedule Service
---
Frequently Asked Questions
What days and hours is the Hyundai service center open?
The service center at Jim Ellis Hyundai Atlanta is open every day of the week except for Sunday. Our hours are the same every day, excluding holidays, from Monday to Saturday - at 7:30 AM our service center opens its doors, and at 7:00 PM it closes.
How to schedule a service appointment?
You can schedule your service appointment at Jim Ellis Hyundai Atlanta in one of two ways. The first way is to give us a call at 770-343-5070 and set up an appointment by talking with one of our service advisors. The second is to schedule a service appointment by filling out our convenient online form.
What Hyundai services do you offer?
At Jim Ellis Hyundai Atlanta, our service center offers all the services needed to keep your Hyundai vehicle in top shape. We offer all the regular maintenance items like oil changes, brake services, battery replacement, and tire services/replacement. We also offer tune-ups and regular service-interval work like spark plug replacement, gasket changes, transmission fluid flushes, and much more. No matter the service your Hyundai vehicle needs, our fully-stocked parts department, and expert technicians can help get it done.