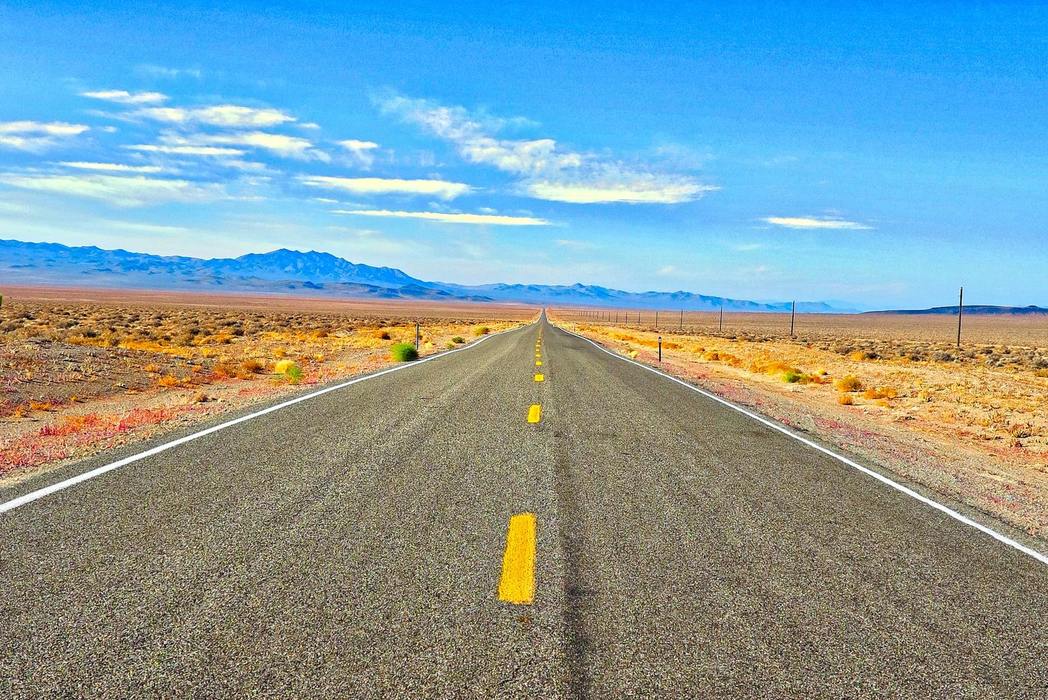 What would you say is the most popular weekend activity? Heading to a local baseball game in your
new Palisade SUV
? Enjoying the rides at an area waterpark? Taking a hike? All of those are popular, sure, but the single most popular weekend activity across the country is the road trip.And what do you need for a stellar road trip? The right car! We think our
Elantra lease deals
or
Tucson lease deals
may be just what you need for summer adventures...
Hitting the road and traveling to far-off places is a time-honored tradition that dates back to the very beginnings of car culture. It's about the freedom of the open road and the ability to explore, learn, and see new sights.
However, things have changed with road trip culture over time, largely due to the evolution of technology, but also our changing society, and even shifting desires in terms of what people wanted to get out of their trips.
How Things Have Changed with Road Trips
Quite a few things have changed in terms of road trip culture. For instance, you'll rarely see anyone reading a paper map these days, and smartphones have replaced compasses. You'll see most people driving on multi-lane interstates rather than national or state highways.
Traveling in a leased car has certainly become an easier task as well. Many dealerships offer financing options that allow for high-mileage leases that allow those with the travel bug to still get their fix without worrying about exceeding their distance restrictions. Check out the
financing page
to learn more about how you can customize your lease to meet your exact needs.
There are quite a few other things that have changed, too. We now have in-car entertainment systems to keep the kids occupied while traversing areas that aren't of interest to them. We have satellite radio that ensures we never have to watch the (now digital) radio dial scroll endlessly through the FM band with nothing but static coming from the speakers. GPS systems make sure that not only are we never lost, but can actually show you what could be coming around the next turn or hill.
Technology has enabled us to take more gadgets with us than ever before.
However, for all that things have changed, they've also stayed the same. Some things never change. America is a nation of people on the go. We want to travel. We want to explore and see new things. Most of all, we want to do that on our terms, with the people who matter most to us, on our own timetable. That's one of the reasons that long-distance passenger trains fell out of popularity. They simply didn't go enough places, and they weren't personal enough for us.
Today, road tripping in our own vehicles ensures that we can go where we want, do what we want and take whom and what we want with us.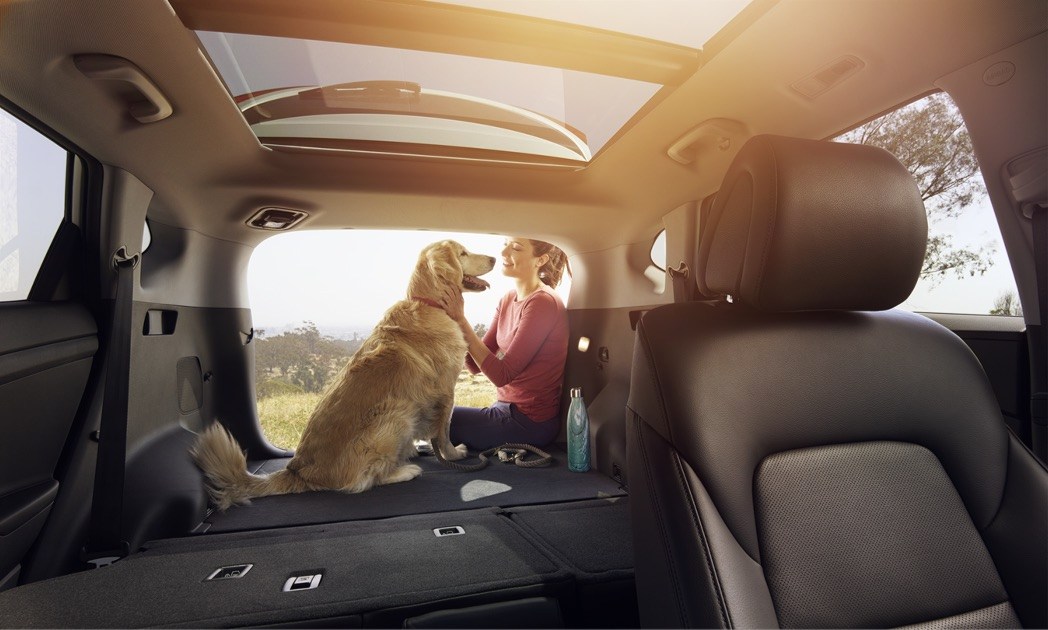 Pick Your Poison – Who's Going with You?
While hitting the road alone might be a great way to find yourself, or to reconnect with nature, life is usually more fun when we have other people along. Who's going on your trip? Family members? Friends? Pets?
Each will require something different in the way of gear and accessories.
For instance, if you're hitting the road with a carload of kids, you're going to need ways to keep them entertained, both while driving and when you reach your destination. Think portable TV/Blu-ray/DVD players, and the like.
If you're traveling with adult friends, you'll need different gear. Got a cooler to keep your brews and brats cold? What about a way to charge your gadgets, or tune in the big game from the road, or from your campsite?
Traveling with pets makes things even more complicated. How will you keep them safe in a moving vehicle for hours at a time? How will you make sure you can safely walk them at rest areas, and keep them comfortable but safe when you stop for the night?
The answer to all of these questions is technology. The right tech and the right gear will help ensure that you have a great time on your trip no matter who's riding shotgun.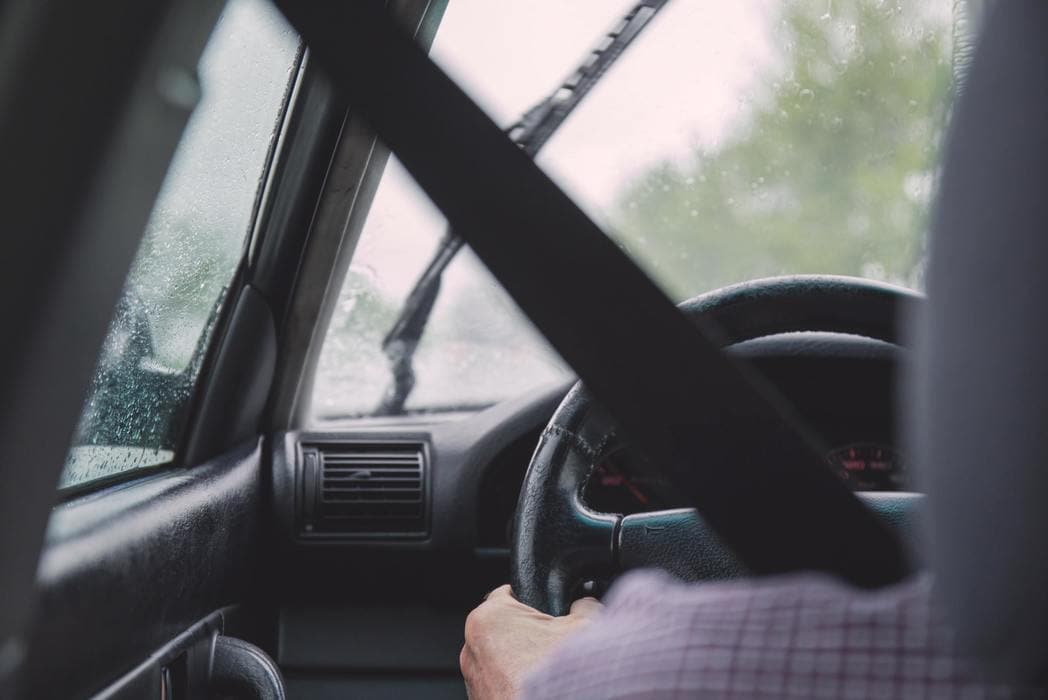 Upping Your Safety Game
While getting out on the road is all about freedom, you need to be smart about safety at the same time. Thankfully, modern technology can help here, as well. It's not all about entertainment or connectivity in remote places. You'll find a host of options that make sure you and your fellow road trippers can stay safe while traveling.
Perhaps the most obvious is how a GPS system can ensure that you're always in the know about where you are, and how advanced systems can even offer warnings about accidents in your path or dangerous weather conditions. Some can actually respond to voice commands to help you get where you're going hands-free.
Dash cams can help you capture stunning scenery, but also ensure that you're safer by capturing footage of everything that occurs outside your vehicle.
Power banks make sure that you always have enough juice to call for help if things go sideways.
You get the picture - technology not only entertain, but it can protect, as well.
Of course, there's a lot more you need to know about road trip-related technology, what it can do for you, and what's available out there. Let's delve into some of the most important gadgets to have before planning your next trip.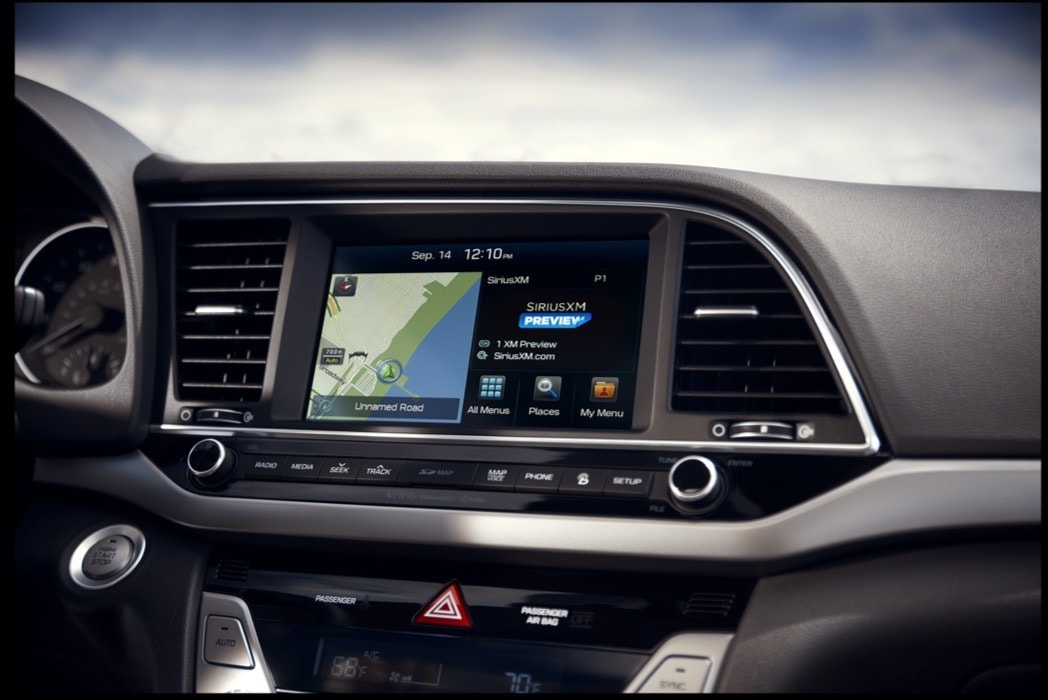 GPS Navigation
Once upon a time, all road trippers needed super-detailed, accurate maps. Today, those are rarely used (although carrying a paper map as a backup is highly recommended!). GPS systems have replaced paper maps, but there are several options out there:
Automaker Installed – These are probably the most convenient of all your options, but the least accurate and the most difficult to update. They come with the car from the automaker, and while useful, are not as handy as other options largely due to the inaccuracy of the maps, and difficulties programming destinations. They also do not offer much in the way of additional information, such as what's nearby, traffic conditions on your route, weather and the like.
Aftermarket GPS – These are usually mounted to your dash or windshield, and they can be pretty accurate depending on the manufacturer (Garmin is one of the best, but Magellan, TomTom and Rand McNally are also good options). Be prepared to shell out several hundred dollars for a decent model, though. Some higher-end units do offer information about attractions, restaurants and gas stations along your route, but most do not offer traffic updates.
Smartphone-Based – These are the cheapest, and often the most up to date. There are several major players, although Waze is the most frequently used. Google Maps (Google also owns Waze) and Apple Maps are also very popular. Waze is perhaps the most robust of all these apps, and can show you what's nearby, as well as alerting you to traffic conditions, and offering alternate routes. You'll need to mount your smartphone on the dash or on an AC vent to make these apps easier to use, though. The primary issue with smartphone-based systems is dealing with areas with poor or no cell signal.
Infotainment Systems
There's no need for another rendition of "99 Bottles of Beer on the Wall". Today's road trippers have access to a wide range of entertainment options.
Not sure what an "infotainment" system should include? Actually, there's no single definition. Most include a screen/monitor, a disc player (at least CDs, but many play DVDs, and some can play Blu-rays), a radio tuner, hands-free calling capabilities, and more.
Built-In: Built-in, OEM infotainment systems are generally the most advanced. These systems usually fit into the center stack in the dash, and may have additional screens for passengers in the rear if you have a DVD/Blu-ray capable system. In most instances, these systems integrate almost all of the functionality not part of the gauge cluster/steering wheel, including hands-free calling via your connected smartphone, movie-watching capabilities, AM/FM radio, CDs/MP3 capabilities, and the like. Each automaker has their own take on infotainment systems, and it varies significantly with make and model, as well as with trim level.
Aftermarket: Aftermarket infotainment systems generally have fewer niceties than OEM systems, largely because they don't connect directly with the car's computer and electrical system. With that being said, you can find very high-end DVD/Blu-ray players out there with multiple screens, as well as the ability to connect to smartphone apps like Pandora or Apple Music, and more. While not as seamlessly integrated with the vehicle as OEM systems, aftermarket infotainment setups are easier to customize to your specific needs. Prices range from just a couple of hundred dollars to several thousand dollars depending on the bells and whistles you want.
Important Advancements of Note: Technology has improved a lot in recent years, and has provided quite a few important advancements in the area of automotive infotainment systems. Some of the most important/pertinent of these include the following:
Voice activation to allow hands-free operation of the system itself
Voice activation and hands-free calling to comply with smartphone/cellphone laws
Internet connectivity (usually only available for an additional fee, and subject to cellular connectivity issues)
Touchscreen technology for easier system manipulation and interactivity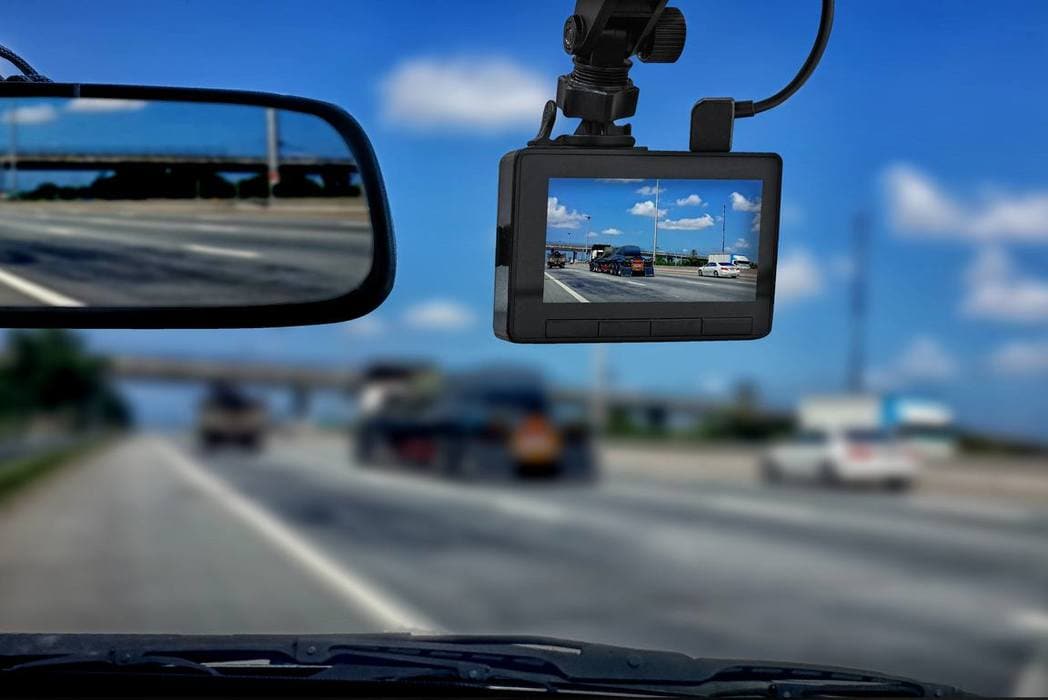 Dash Cams
If you have a smartphone with a built-in camera and the ability to record video footage, it might seem strange to recommend a dash cam, but it's actually a wise investment. Dash cam footage can provide you with
important protection in the event of an accident
, and allows you to prove who was at fault to your insurance company. There is also the fact that you can record any traffic stops that might occur. Of course, a decent dash cam can also capture footage of the stunning roads you'll travel, the scenery you'll encounter, and even your driving skills around harrowing turns and mountain passes.
When it comes to installation, the best place to put your dash cam is front and center the center of your front dashboard, close to the windshield. However, you might want to try different positions while you sit in the driver's seat to make sure that the camera can capture the footage you want, but doesn't block your view. You also need to make sure that you can easily route the power cable to an outlet.
In terms of cost, you can expect to pay between $60 and $100 for a dash cam with good resolution, good build quality, and the features that you want. Anything under $60 is likely too low-end to bother with, and anything over say $120 is probably overkill.
Wi-Fi Hotspot Router
Not all that long ago, Internet connectivity was limited to static locations. Today, that's not the case. You can take your Internet connection with you, so you can game and enjoy time on social media sites, but also research attractions as you travel.
You'll find a number of hotspots on the market that allow you to enjoy mobile Internet access. Some vehicles come from the automaker with this feature, but you'll need to pay for it. You can also purchase a wired hot spot from most cellular providers that mounts in your car and connects to a power outlet. However, most modern smartphones today have the ability to share their own Internet connection, and can allow multiple devices to connect to them at the same time. Note that this will affect your cellular data usage and may incur additional fees if you go over your allotted amount.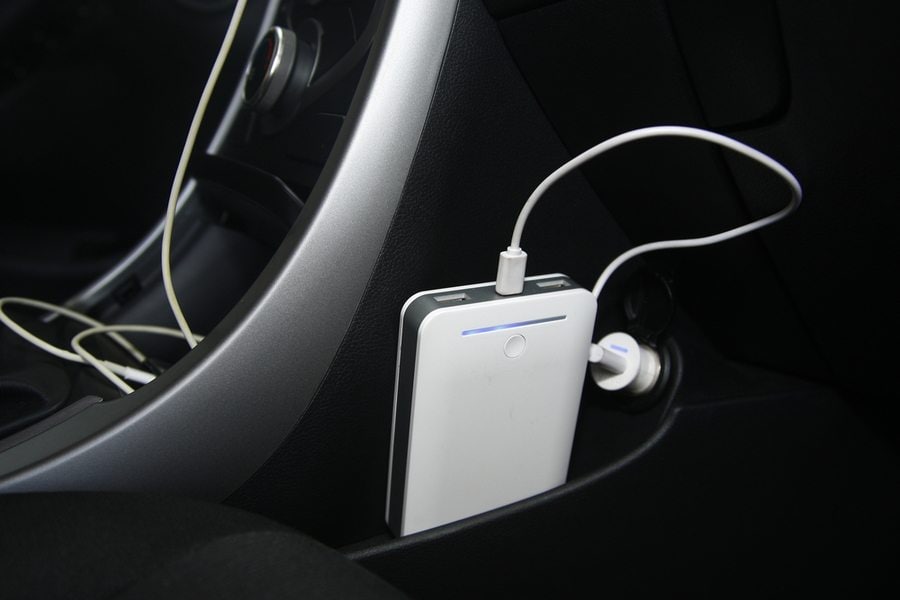 Power Banks, Power Inverters and Chargers
We're a gadget-focused society today, and in many ways, that's a good thing. However, all of those gadgets need power, and most of them use batteries to supply it. The problem here is that you need to recharge those batteries periodically, and heavy usage (such as during a road trip) can drain them very quickly. Power banks, power inverters and chargers help ensure that you can use your gadgets whenever and wherever.
Power Banks: Power banks are nothing more than batteries themselves. You charge them ahead of time, and they allow you to recharge your devices. The Mophie Powerstation Plus XL is one of the best options on the market, and costs around $100. But the Xiaomi Mi Power Bank Pro is another good one, and it costs only around $30. There is no installation needed with these – just connect your device's cord to the bank's port.
Power Inverters: Power inverters offer the ability to transform your car's DC current into AC current that you can use with a regular plug to power your accessories. Power inverter costs vary from $30 to several hundred depending on the number of outlets offered, overcharge protection and more. Usually, they only need to be connected to an existing power outlet in your vehicle.
Charging Cords: Charging cords are just 12-volt cords that plug into an available outlet (DC outlets with a rounded end, and AC outlets with prongs). These charge your device directly from the car's electrical system without the need for a bank or inverter. You can find these for just a few dollars at most electronics stores.
Seat Organizers, Bags and Shelves
Ok, so these don't really fall under the "technology" heading, but they are important accessories for today's drivers, particularly while you're on a road trip. Organization is key when you're carrying items to entertain your passengers, plus snacks, beverages and more.
Organizers: You'll find a host of organizers out there, but one of the best options is to go with a seatback system. These hang over the back of the driver and passenger front seats and can provide any number of storage solutions, from pockets to cubbies and everything in between. Plus, it means that backseat passengers don't lose any seat space, and they can maximize legroom.
Roof-Mounted Cargo Bags: If your vehicle has a cargo rack on the roof, you can make use of roof-mounted cargo bags. These attach to the rails of the rack, and allow you to carry additional items on top. Make sure that the bag you purchase is waterproof, though, as some models aren't. Also, realize that these cannot be used for storing heavy items.
Cargo Area/Trunk Storage and Organization: The cargo area of your minivan or SUV, or the trunk of your car, can provide valuable storage, but with the right accessories, you can do more than just carry luggage. You'll find side-mounted storage systems that include shelves, pockets and cubbies, Velcro closures and more. There are also over-the-seat systems that hang over the back of the rear seat available for some vehicles.
Eye Protection
If you'll be spending a lot of time behind the wheel, you need
eye protection
to help block sunlight and UV rays, but also to help improve your vision. Polarized sunglasses can do all that and more. Polarized lenses benefit from an additional filter that blocks reflected light, such as glare off the windshield or oncoming traffic.
Polarized lenses work similar to the surface of a lake – if you have ever looked at the surface of a body of water in the sunlight, you see that most sunlight reflects off of it. Polarization of the lenses does the same thing, creating a filter that blocks most light from entering your eye. Some types can even improve your vision in low-light and low-visibility situations, such as when driving in the fog or the rain.
For this purpose, look for sunglasses with amber or yellow lenses. Prices range from $10 or so all the way to several hundred dollars for designer sunglasses.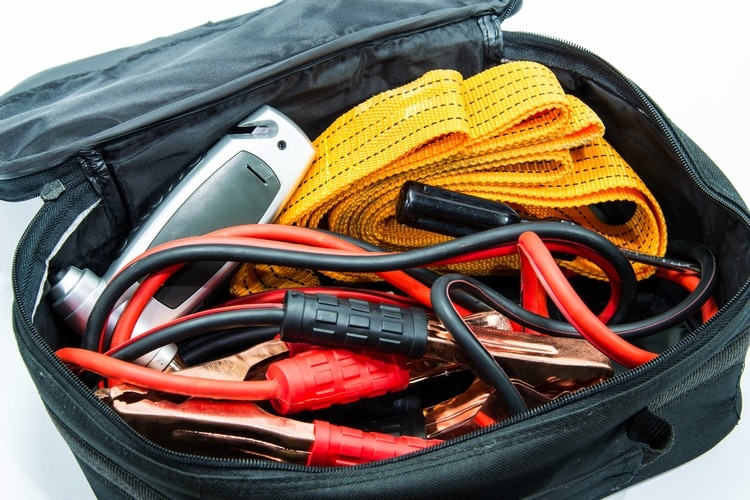 Jump Starter Kits and Important Tools
Any road trip contains the possibility of surprises. Hopefully, most of them will be pleasant. However, there's always the chance for some unpleasant ones, like dead batteries, blown headlights and the like. The right preparation will help ensure that these unwanted surprises do not derail your fun.
Jump Starters: Jump starters are essentially portable battery packs. You charge them before your trip, and then carry them with you in the case of a dead battery. Modern jump starters offer strong clamps to connect to your battery terminals, as well as 12-volt outlets and even USB ports to charge devices. Jump-N-Carry makes a convenient model that offers easy portability, but you'll find that both DBPower and Beatbit offer strong batteries (18,000 mAh). You can expect to pay anywhere from $60 to $200 or $300 depending on the model, as well as the bells and whistles.
Emergency Kits: Emergency kits provide you with supplies in case of the unexpected. You can buy these premade, but it's actually cheaper just to assemble the items yourself. You'll need:
Flares
Pen and paper
First aid kit
Emergency blanket
Extra engine oil
Extra engine coolant
Flashlight
Spare batteries
Gloves
Tire sealant (such as Fix-a-Flat)
Important Tools: A tool kit should be part of your emergency supplies. You should include a few basic items in this kit:
Screwdrivers (flathead and Phillips)
Adjustable wrench
Pliers (both snub nose and needle nose)
Wire cutters
Box cutter/sharp knife
Zip ties
Small socket set that fits your vehicle (SAE or metric)
Duct tape
Tire plugs
One of the most important things you can do, in conjunction with the ideas listed above, is to always keep your
vehicle serviced
. Extra engine oil or coolant won't help you much if your engine breaks down completely due to lack of care. Remember, most of these suggestions are only useful when your car's mechanical system is already sound and experiences a minor malfunction
Luxury Must-Haves
You'll need to eat on the road, and a steady diet of stale potato chips and lukewarm soda is not ideal.
Thankfully, modern technology can help here, too. To ensure that you have all the food you might want, including snacks on the road and food to cook when you reach your destination, you might want to invest in a portable refrigerator. These range from cooler-style units that plug into a conventional automotive power outlet to larger units meant to be put in the cargo section of your SUV. Look for a unit that can keep its cool for hours with the power off so that you don't have to worry about what you'll do when you stop for the night.
To ensure that you can get up and go in the morning, a hot cup of freshly brewed java is recommended. Ditch the gas station stuff and brew your own – mobile espresso machine ensures that you can brew the perfect cup every time. Of course, you'll also need coffee, water (and possibly a way to heat it depending on the espresso model you choose), filters and more. Look for an espresso maker that plugs right into your 12-volt automotive socket for easy, no-fuss use.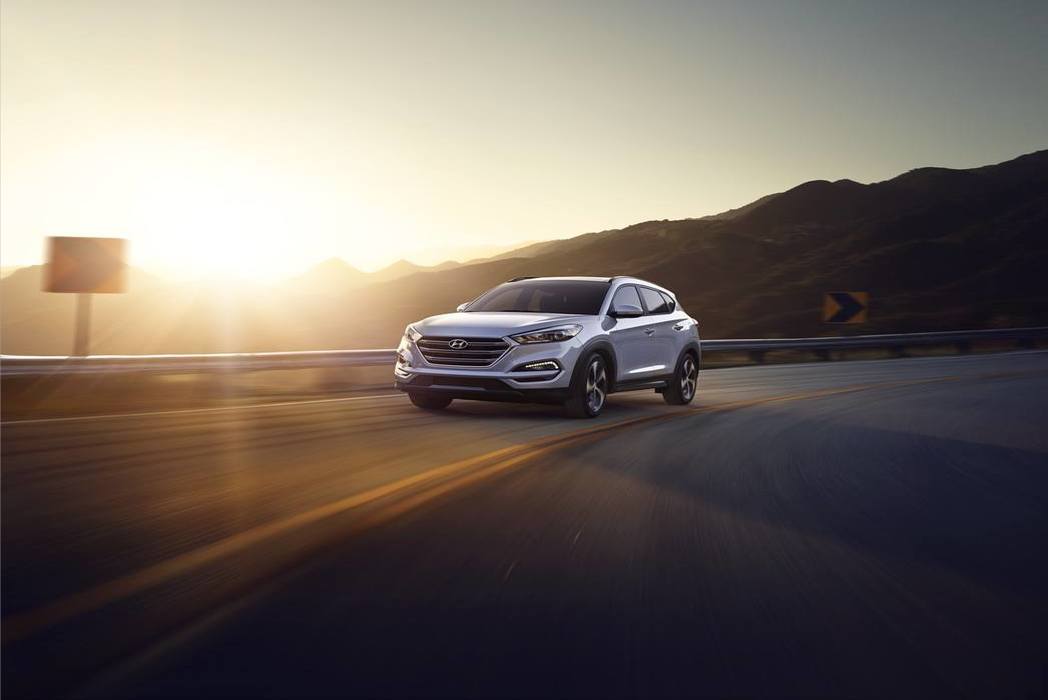 In Conclusion
Road tripping can be fun, freeing and even empowering. It allows you to see areas you might never have experienced before, to spend time with the people most important to you, and to experience the US in completely new ways. However, it helps to take the right technology along. The right gear will help you pass the time, stay on track, organize your stuff, and even stay safe while traveling.