New Hyundai Sedans for Sale in Atlanta, GA
Welcome to the highly spectacular world of Hyundai sedans. This is a world filled with power, versatility, and endless options. Who wouldn't want that in a sedan lineup? Join us as we give you a quick glimpse into our Hyundai sedan offerings. Then, join us in person to get yours!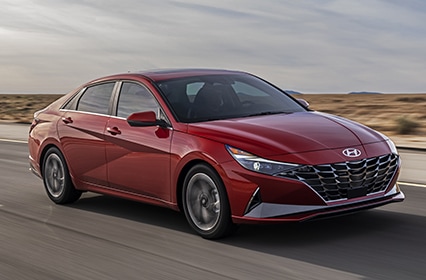 Hyundai Elantra
Optimized for performance, efficiency, and a stellar design, the new Hyundai Elantra comes in three available trims: Hyundai Elantra SE, Hyundai Elantra SEL, and Hyundai Elantra Limited.
You can get up to 147 horsepower and an incredible EPA-estimated 42 MPG on the highway.1 Want to know a poorly-kept secret? The Hyundai Elantra was named the North American Car of the Year for 2021 for its boldness and next-level technological appointments. Don't believe us? Get one from our Hyundai Elantra inventory, and you can be the judge.
---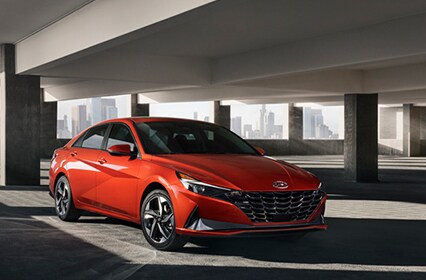 MPG:
Up to 42 MPG highway
Available trims:
SE, SEL, and Limited.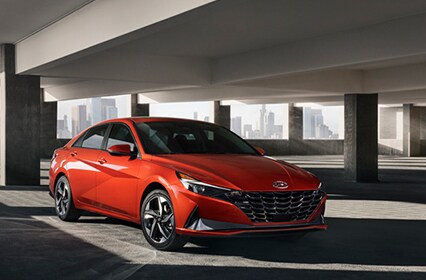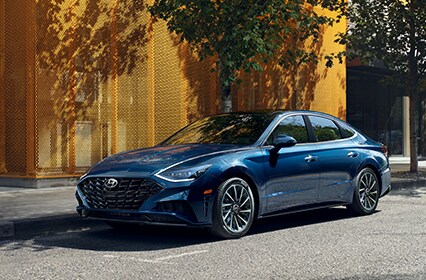 Hyundai Sonata Hybrid
The Hyundai Sonata Hybrid is like the Sonata, but it's a green-loving machine! Driving a hybrid is more attractive than ever, especially considering the EPA-estimated 54 MPG2 you'll get on the highways. All of the new Hyundai sedans are impressive, but there's just something about a hybrid that sets it apart. Enjoy saving mother Earth in any one of three trims (Blue, SEL, and Limited). And your passengers will also love the class-leading headroom and legroom in this Hyundai sedan.
---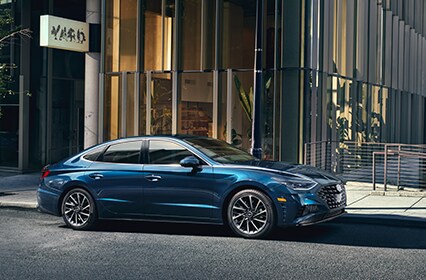 MPG:
up to 54 MPG highway
Available trims:
Blue, SEL, and Limited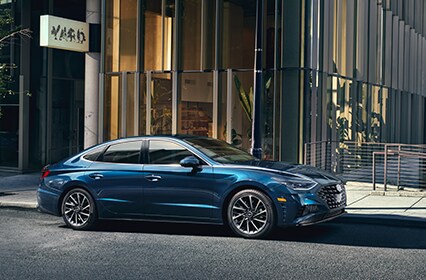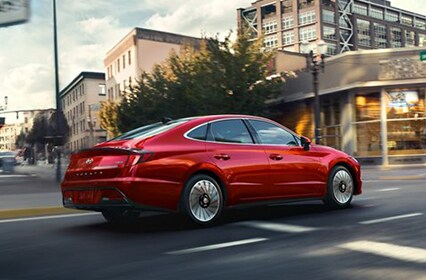 Hyundai Sonata
The Hyundai Sonata is the oldest sedan in the lineup, but it's anything but outdated. It has gotten tons of time to grow and adapt to a modern world and give modern drivers all the features they want most. It sports a sharp, raked hood and a rounded silhouette with a lower and wider design than ever before, mimicking that of a coupe.
On all six available trims, you'll see the class-exclusive Hyundai Digital Key, allowing you to lock, unlock, and start your car all with your compatible smartphone. There's a lot more you'll want to get in on, but you'll have to explore our Hyundai Sonata inventory and maybe even take a test drive to see the rest for yourself.
---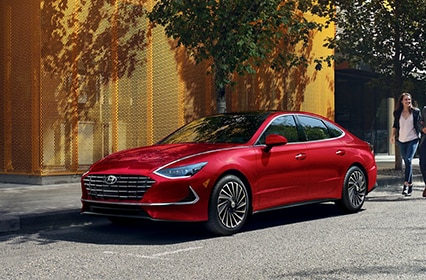 MPG:
up to 38 MPG highway
Available trims:
SE, SEL, SEL Plus, N-Line, Limited, and N-Line Night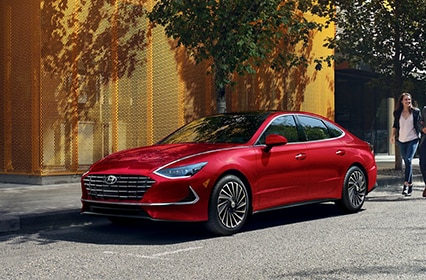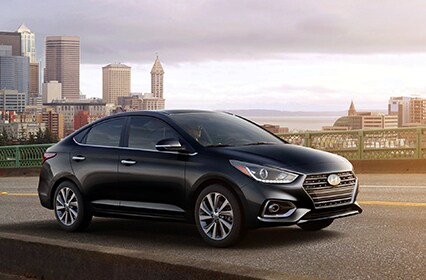 Hyundai Accent
The Hyundai Accent may be compact, but you could easily mistake it for one of the full-size Hyundai sedan models, given how packed it is with features. Enjoy peace of mind courtesy of the Hyundai Accent and its instinctive safety features like Forward Collision-Avoidance Assist (FCA), driver's blind spot mirror, Vehicle Stability Management (VSM), Traction Control System (TCS), and more. Not only will you be safe, but you'll be comfortable thanks to convenience features like heated front seats that are adjustable up to six ways.
---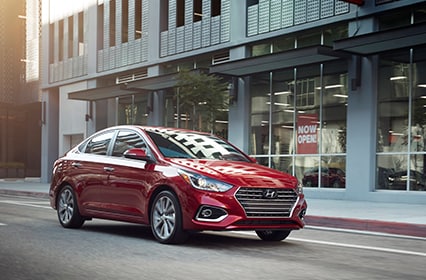 MPG:
up to 41 MPG highway
Available trims:
SE, SEL, and Limited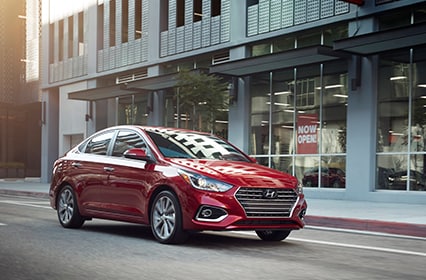 Hyundai Sedan Sizes
All of these new Hyundai sedans are similar in size, given that they're in the sedan class. However, there are slight variations between them. The Sonata is a mid-size sedan. The Elantra is a compact sedan, and the Accent is also a compact sedan.
In the chart below, you'll see the measurements of Hyundai sedan models for head & leg room, exterior dimensions, passenger volume, and cargo capacity (with rear seats up). You'll notice the two Sonata models are almost identical in their dimensions, and the Accent, being a compact model, has the smallest dimensions. This is perfect for someone who doesn't typically carry a lot of gear with them around Atlanta, GA, and who needs a little less space than a mid-size or full-size sedan would offer.
Hyundai Elantra
Hyundai Sonata
Hyundai Sonata Hybrid
Hyundai Accent
Cargo Capacity (cu. ft.)
14.2
16
16
13.7
Rear Head & Leg Room (in.)
37.3
38
37.4
34.8
37.8
34.8
37.3
33.5
Front Head & Leg Room (in.)
40.6
42.3
40
46.1
40
46.1
38.9
42.1
Passenger Volume (cu. ft.)
99.4
104.4
104.4
90.2
Exterior Dimensions
(L, W, H) (in.)
184.1
71.9
55.7
192.9
73.2
56.9
192.9
73.2
56.9
172.6
68.1
57.1
Shop Hyundai Sedans at Jim Ellis Hyundai
There isn't anything out there quite like Hyundai sedans. They've been optimized to be some of the most impressive sedans on the market in terms of interior space, power, and even good looks. As time goes on, they adapt and mold to fit the needs of dedicated Hyundai sedan drivers like yourself, thus making a perfect vehicle that meets and exceeds all your criteria.
---
12023 ELANTRA SE: 33 City/42 Hwy/37 Combined MPG. 2023 ELANTRA SEL/Limited: 30 City/40 Hwy/34 Combined MPG. All figures are EPA estimates and for comparison purposes only. Actual mileage may vary with options, driving conditions, driving habits and vehicle's condition.
22022 SONATA Hybrid Blue: 50 City/54 Hwy/52 Combined. 2022 SONATA Hybrid SEL/Limited: 45 City/51 Hwy/47 Combined. All figures are EPA estimates and for comparison purposes only. Actual mileage will vary with options, driving conditions and habits, vehicle and battery's condition and other factors.