If you are looking for a new vehicle to transport your growing family or give you more cargo room and AWD capability for your weekend adventures, you're probably considering one of the new Hyundai crossovers for sale. To help you make an informed decision, let's take a minute to review the differences between crossovers and SUVs and go over the Hyundai crossovers. When you're ready to get behind the wheel of any of the new Hyundai crossover SUV models, stop by our local dealership for a test drive and tour. Our sales associates are eager to assist you.
What's the Difference Between Crossovers and SUVs?
Many of our regular customers want to know more about the Hyundai SUV lineup and how the crossovers compare. Let's look at the new Hyundai crossovers to help you decide on the best new car for your needs. The biggest difference between crossovers and SUVs is going to be the size. SUVs are bigger than crossovers, will typically have larger engines, and can offer three rows of seating for up to seven or eight passengers.
For many of us, SUVs are more car than we need. If you don't need three rows of seating, but still want more stability in the rain as well as roof racks for your bikes and kayaks, talk to our team about the Hyundai mid-size crossover models for sale at Jim Ellis Hyundai.
Hyundai Crossover Pricing
Popular Hyundai crossovers include the Venue, Kona, and Nexo. The 2021 Venue is an urban compact SUV that has an $18,750 starting MSRP1 and produces up to 121 horsepower, an EPA-estimated 33 highway MPG,2 and offers an optional Snow mode. If you're looking for the same highway fuel economy but want a bit more performance, the 2021 Kona is a Hyundai crossover SUV that produces up to 175 horsepower and boasts an optional AWD. Pricing on the Kona lineup starts at $20,500 MSRP.1
When you want a new electric crossover, take a look at the 2021 Kona Electric. This new Hyundai for sale boasts an EPA-estimated range of 258 miles3 and up to $7,500 in available federal tax credits,4 all for a $37,390 starting MSRP.1 This all-electric crossover offers three available trim models, including the SEL, Limited, and Ultimate. Please get in touch with our sales team to learn more about how the standard features and available options compare, and then look at this new Hyundai crossover sparkling in Pulse Red exterior paint.
Hyundai Crossover Sizes
The 2021 Hyundai SUV lineup offers many impressive options to choose from, but if a full-size SUV is more vehicle than you need, let's look at some choices that still provide plenty of versatility and convenience. When it comes to size, crossovers are smaller than SUVs while still offering ample cargo room and seating for five across two rows. The Hyundai Venue and Kona occupy a similar footprint and offer comparable total interior volume, passenger volume, and cargo volume. The Kona is roughly five inches longer and one inch wider, so both should fit in your garage equally well.
| | Venue | Kona | Nexo |
| --- | --- | --- | --- |
| Cargo Capacity: seats up/folded | 18.7 / 31.9 cu. ft. | 19.2 / 45.8 cu. ft. | 29.6 / 56.5 cu. ft. |
| Passenger Volume: | 91.9 cu. ft. | 94.1 cu. ft. | 101.3 cu. ft. |
| Front Headroom: | 39.4 cu. ft. | 38 cu. ft. | 39.4 cu. ft. |
| Front Legroom: | 41.3 cu. ft. | 41.5 cu. ft. | 41.5 cu. ft. |
| Rear Headroom: | 38.6 cu. ft. | 37.8 cu. ft. | 38 cu. ft. |
| Rear Legroom: | 34.3 cu. ft. | 34.6 cu. ft. | 38.6 cu. ft. |
FAQs
Which Hyundai models are crossovers, and which are SUVs?
To help you find the right vehicle for your needs, let's distinguish between some of the models in the current 2021 Hyundai lineup. The Venue, Kona, and Nexo are considered crossovers, while the Hyundai Tucson, Santa Fe, and Palisade are SUVs. The Santa Fe offers seating for up to five passengers, but if you need more room, the new Palisade three-row SUV can seat up to eight. For drivers who want rugged flexibility, the new Hyundai Santa Cruz is part pickup and part SUV.
What are the size differences of the three Hyundai crossovers?
When comparing the Venue, Kona, and Nexo Fuel Cell crossovers, the Venue is the smallest of the three, followed by the Kona and the Nexo. The Venue offers plenty of front headroom and legroom for the comfort of you and your co-pilot. Anybody traveling in the second row will also be comfortable with ample rear legroom. If your kids are growing up fast and require a bit more room to stretch out, the Kona crossover offers plenty of passenger volume. When you arrive at our local Hyundai dealership, feel free to test drive and compare both models to find the Hyundai crossover SUV that fits you best.
Is the Hyundai SANTA FE a crossover?
The 2021 Hyundai Santa Fe is an adventurous family SUV with seating for five, optional AWD, and up to 281 horsepower. The new Santa Fe SUV is available in five trim models that build upon each other to offer you more features and luxuries, so you can enjoy a vehicle that matches your needs and budget. Trim models for the 2021 Hyundai Santa Fe include: Santa Fe SE, SEL, Limited, Calligraphy, and the Calligraphy 2.5T AWD with 19-inch wheels. To learn more about any of the standard features found on these models, please feel free to contact our sales team.
Is the Hyundai TUCSON a crossover?
The 2022 Tucson is a modern compact SUV with a $24,950 starting MSRP,1 an optional AWD system, and 187 horsepower, depending on the trim model you select. There are three trim models available for the 2022 model year, including: Tucson SE, SEL, and Limited. If you're interested in a new compact SUV for sale with leather-trimmed seating, an eight-way power driver's seat, and a 10.25-inch touchscreen with navigation, then don't miss the new Tucson Limited. The Tucson Limited also gives you the convenience of a hands-free smart power liftgate with auto open and the luxury of a leather-wrapped steering wheel. Ask our sales team about our current inventory of Hyundai Tucson lease specials.
Shop Hyundai Crossover Models at Jim Ellis Hyundai
To see any of the new Hyundai crossover SUV models for sale, stop by our local Hyundai dealership. We can tour you through Hyundai crossovers like the Kona and Venue, then tell you all about the 2022 Hyundai Santa Cruz Sports Adventure Vehicle that gives you the convenience of a pickup truck and the drive of an SUV. We hope to see you soon at our local Hyundai dealership.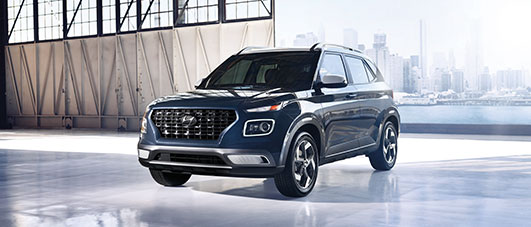 VENUE
Built for convenience, fun, and efficiency, the 2021 Hyundai Venue arrives in three trim models: Hyundai Venue SE, Hyundai Venue SEL, and Hyundai Venue Denim. The Venue SUV is a small SUV designed for the big city. The lineup offers 121 horsepower, an optional Snow mode, and an EPA-estimated 33 highway MPG.2 When you want to sit up high but still be nimble in traffic, opt for a vehicle that offers plenty of cargo room and is easy to park. Browse our inventory and choose a new Hyundai Venue from our local dealership.
---

MPG:
30 City/33 Hwy/31 Combined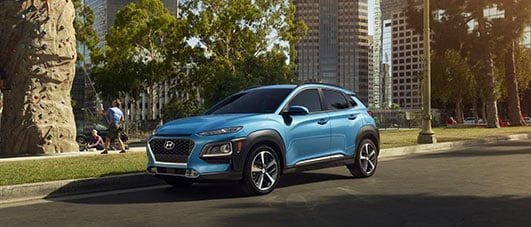 KONA
When you need a compact SUV that has the capability to provide big adventures, don't miss the new Kona available in six trim models for 2021: Kona SE, Kona SEL, Kona SEL Plus, Kona Night, Kona Limited, and Kona Ultimate. The new Kona crossover offers a choice of FWD or AWD and is motivated by an inline four-cylinder turbocharged engine. The Kona provides plenty of get-up-and-go for your adventures with its 175 horsepower and 195 pound-feet of torque. Load up the 45.8 cubic feet of cargo room and hit the road.
---

MPG:
27 City/33 Hwy/30 Combined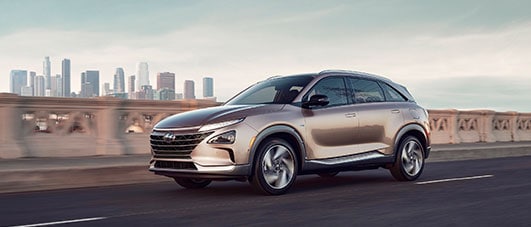 NEXO
The 2021 Nexo Fuel Cell is an exciting new hydrogen fuel-cell SUV that offers a $58,935 starting MSRP1 and an EPA-estimated range of 380 miles.5 This hydrogen-powered SUV is available in two trims: 2021 Nexo Blue and Nexo Limited. When you want the latest in alternative fuel technology, don't miss the Nexo Fuel Cell from Hyundai. Along with the low environmental impact of running on hydrogen, the Nexo Blue offers bio-based leatherette seating surfaces to help keep this new SUV environmentally friendly on the inside as well as under the hood.
---

MPG:
65 City/58 Hwy/61 Combined MPGe

---
---
1MSRP excludes freight charges, tax, title, and license fees. Freight charges and actual dealer prices may vary. Vehicles displayed may contain optional equipment at additional cost. Accessory items shown may vary according to model and illustration.
2EPA estimates for comparison. Your actual mileage will vary with options, driving conditions, driving habits, and vehicle's condition. Some accessories are not available on some models. While the information contained in this website was correct at time of publishing, specifications and equipment can change. Hyundai reserves the right to change product specifications and equipment at any time without incurring obligations. Some vehicles are shown with optional equipment. Specifications apply to U.S. vehicles only. Please contact your Hyundai dealer for current vehicle specifications.
32021 KONA Electric 258-mile range based on a fully charged battery and 120 combined MPGe. MPGe is the EPA-equivalent measure of gasoline fuel efficiency for electric mode operation. All figures are EPA estimates and for comparison purposes only. Actual range and mileage will vary with options, driving conditions and habits, vehicle and battery's condition and other factors.
4The purchaser of a new 2021 KONA Electric may be eligible for a federal tax credit from $0 up to $7,500, depending on his/her individual tax liability and other factors. Tax credit is a potential future benefit and is not applied at the time of purchase. Depending on purchaser's state of residence, additional incentives such as high-occupancy vehicle lane exemptions, financial incentives or utility rate reductions may also be available. Government incentives and benefits are not within Hyundai's control and are subject to change or expire without notice. These incentives and benefits are referenced for informational purposes only. This information does not constitute tax, financial or legal advice. Please consult with your tax, financial or legal professional to determine eligibility, amount of incentives and/or benefits available, if any, and further details.
52021 NEXO Fuel Cell Blue: 65 City/58 Hwy/61 Combined MPGe and 380-mile driving range. 2021 NEXO Fuel Cell Limited: 59 City/54 Hwy/57 Combined MPGe and 354-mile driving range. All figures are EPA estimates and for comparison purposes only. Actual mileage and range will vary based on driving conditions, driving habits, vehicle condition and other factors.