Award recognizes auto dealerships with high Reputation Scores among nearly 17,000 franchised dealerships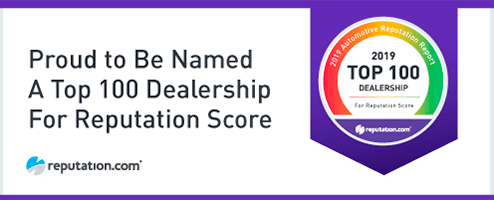 Jim Ellis Hyundai Atlanta has been awarded a Top 100 Dealership award from Reputation.com. The Top 100 Dealership award recognizes auto dealerships with a high Reputation Score, which means a dealership has been managing its reputation effectively. Its customers have been telling people about positive experiences through online reviews, survey responses, and on social media.

"We are grateful our clients take the time to share their encounters on so many social platforms," said Jim Ellis Hyundai Atlanta General Manager, Scott Johnson.

There are nearly 17,000 franchised dealerships that are considered for this award, and to be in the top 100 puts Jim Ellis Hyundai Atlanta in the top .05 percent. To receive this award shows how committed Jim Ellis Hyundai Atlanta is in delivering exceptional customer experience online and on-site.

"A focus on positive client experiences is paramount in our organization's business model and philosophy," said Johnson. "As our company is approaching its 49th year in business in the greater Atlanta area, we work toward improving our valued customer experiences every day, just like Mr. Ellis did 49 years ago."

Online shoppers visiting Jim Ellis Hyundai Atlanta's website will find a "2019 Top 100 Dealership" badge to immediately recognize Jim Ellis Hyundai Atlanta's achievement and status as a top-notch dealership.

About Reputation.com
Reputation.com is the provider of the first and only complete cloud-based enterprise reputation and customer experience management platform. Reputation.com's platform spans the entire customer journey, from finding a location on search, to conversion, to operational improvements that focus on creating a better customer experience.

Reputation.com's market-leading platform manages millions of consumer reviews, surveys and social media interactions across thousands of online points of presence. Reputation.com is trusted by enterprise leaders from global companies in retail, automotive and more.
About Jim Ellis Hyundai Atlanta
Expect the best from Jim Ellis Hyundai Atlanta, your top Atlanta Hyundai dealership.
Jim Ellis Hyundai Atlanta specializes in selling new and pre-owned Hyundai vehicles. For all of your maintenance needs, Jim Ellis Hyundai Atlanta features a service department complete with a full selection of Hyundai parts.

Jim Ellis Hyundai Atlanta strives to create a life-long partnership with its customers and be there every step of the way. You can become part of the Jim Ellis Hyundai Atlanta experience today by visiting 5785 Peachtree Ind. Blvd in Atlanta.